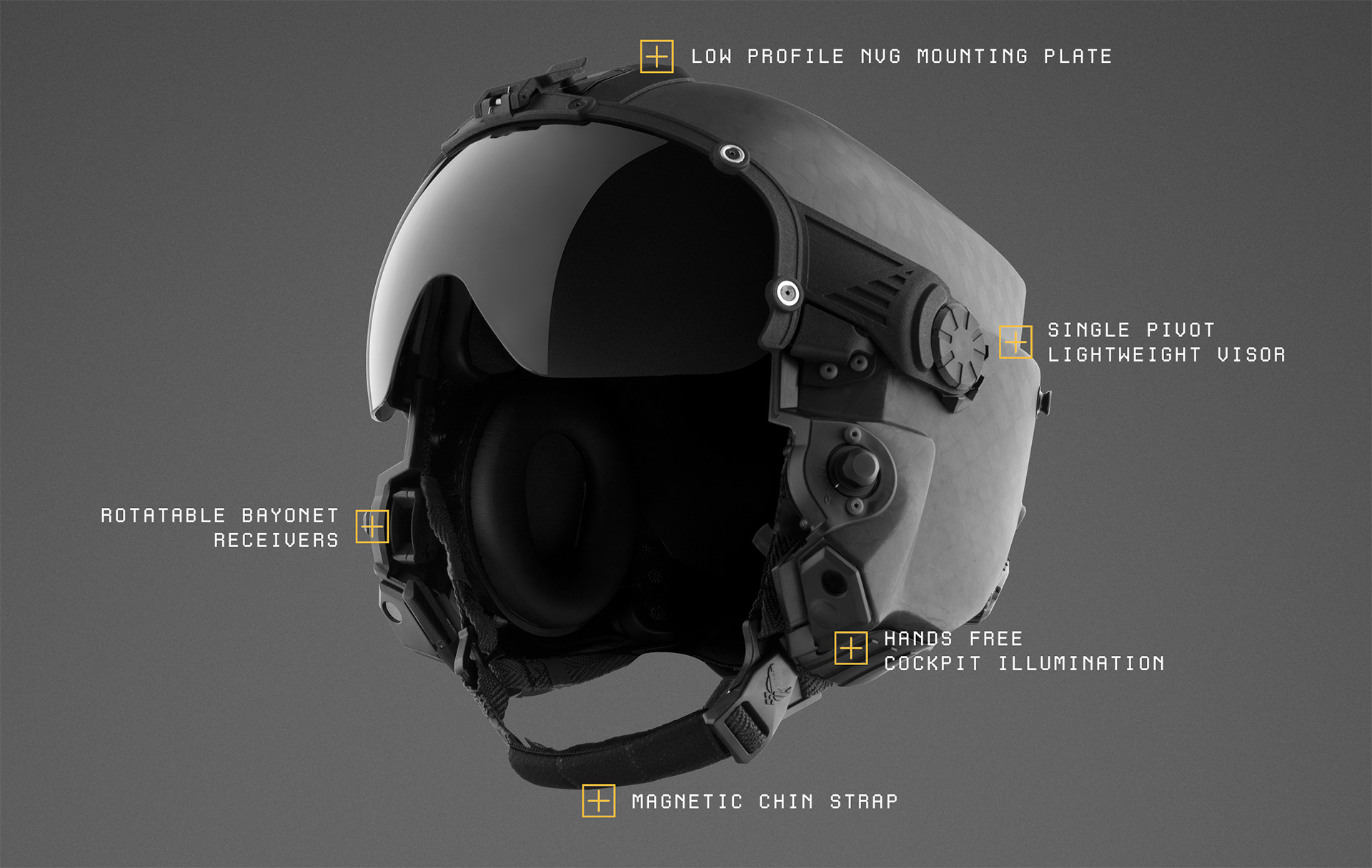 LOW PROFILE NVG MOUNTING PLATE
The low-profile NVG Mounting Plate allows for quick on/off capabilities for the user and is designed to be integrated with Aviator Night Vision Image System (ANVIS) configurations. With the NVG Mounting Plate being externally mounted it also allows the ability to easily swap the NVG Mounting Plate to the Slick Cover Plate.
---
SINGLE PIVOT LIGHTWEIGHT VISOR
The top actuated single pivot dual visor assembly is designed to allow the user the ability to easily raise and/or lower the clear, polycarbonate, visor in smooth one-handed operation.
---
COCKPIT ILLUMINATION ASSEMBLY
This unique assembly provides a hands-free activation with NVG-compatible illumination fully integrated into the AV 2.2. The system features NVG compatible lights with three adjustable levels of brightness on each side of the helmet for up to 5 lumens on High, 2 lumens on the Middle, and 0.04 lumens on the lowest setting.
ROTATABLE BAYONET RECEIVERS
Oxygen masks are attached to the helmet through the use of an internal pair of adjustable and Rotatable Bayonet Receivers. The unique design allows for receiver adjustments of up to 45 degrees per side. Interchangeable and easily replaceable, the receivers also incorporate 5 detailed fitting marks so mask positioning can be recorded on inspection records to ensure that the same fit can be built on a new helmet should a change out be needed.
---
HANDS-FREE COCKPIT ILLUMINATION
This innovative system features NVG-compatible lights with three adjustable brightness levels on each side of the helmet.
---
MAGNETIC CHIN STRAP
The Magnetic Chin Strap buckle on the AV 2.2 allows the user to mate the chin strap with a single hand. Once connected the male/female latch assembly can withstand more than 438 lbs. of force.
LIGHTWEIGHT
Head-worn weight of helmets is critical to the long-term safety of the user. With all external mounted devices and technology on our direct competitor, the AV 2.2 is 42% lighter with head-worn weight compared to said competitor.
VENTILATION
Koroyd, an advanced impact protection system for the user, also provides an incredibly ventilated environment for the user due to it's multi-hole structure combined with the external venting on the AV 2.2. It is also easy to remove, inspect, and replace if necessary.
CUSTOM FITTING
A custom/personalized fit in the AV 2.2 is an easy task for the user with our variously sized comfort liner fitting pads. Our system of 5 comfort liner pads inside the helmet can be customized using any combination of 7-, 10-, or 13-millimeter thicknesses to achieve the best custom fit possible with limited maintenance.