Lift Airborne progresses in delivering theNext Generation of Fixed Wing Helmets
07/01/21
---
Innovation is at the heart of EVS SPORTS. Our history of successs has always been led by the forward-thinking ideas of our talented Product Design team. Our award-winning engineers continue to be on the forefront of safety and protection design. And while many product advancements have come from the knowledge we've gained through experience, much of our success can be attributed to the active partnerships we have with our sister brands LIFT Safety, LIFT Aviation, and LIFT Airborne.
Great ideas drive innovation. That's why our network of brands have been working together, collectively sharing knowledge and resources, and collaborating across a variety of projects. It's this approach that helps bring new ideas, key technologies, and best practices from across several different of industries, leading to more innovative products. Working together, we can combine our strengths to dream bigger, and build better.
That's why EVS SPORTS is pleased to announce that its sister company, LIFT Airborne Technologies, is making huge progress in the development of their Next-Generation fixed Wing Helmet for the United States Air Force. Read below to learn about LIFT Airborne, and how they are working to provide the safest and most technologically advanced flight helmet for the brave men and women of the US Air Force.
If we're trusted to protect some of the world's greatest athletes, best pilots on the planet, and the United States Air Force, wouldn't you trust us as your choice for protective gear?
---
Los Angeles, CA – In 2020 the United States Air Force awarded LIFT Airborne Technologies an OTA Agreement to design and develop their Next Generation Fixed Wing Helmet. Working directly with the US Air Force, LIFT Airborne designed, developed and is currently in extensive testing of a robust helmet system to meet the needs of today's warfighters. With its innovative helmet design, and modernized configurations, LIFT Airborne will be able to provide a safer, more serviceable product, while better protecting the brave men and women of the United States Air Force.
LIFT Airborne's next generation fixed wing helmet design incorporates a wide range of updated technologies. Active Noise Reduction (ANR) is a standard issue feature which improves speech intelligibility across a wide frequency spectrum, helping to protect crew members from stress and fatigue. The Aircrew Mounted Power Supply (AMPS) is an off-helmet unit, which reduces weight, and helps extend the life of the helmet through it's rechargeable lithium-ion batteries (reducing battery waste). Additional features include Improved stability, a reduced helmet size to aid in better 'mass properties', a carbon fiber shell to reduce helmet weight and crew member neck strain, and a "custom fit system" to provide a more comfortable fit for male and female aircrew members. These features will make the helmet one of the most advanced, and aircrew-friendly helmets in the world.
LIFT Airborne is currently conducting a wide range of tests to meet Air Force quality standards, and align with key performance characteristics. The Air Force will be evaluating the helmet design by performing tests such as centrifuge, deceleration, audio and communications, and anthropometric testing. In addition, LIFT Airborne will also be performing a series third party lab testing, to ensure quality and consistency across all configurations. These include Environmental, Impact and Penetration testing, and linear displacement tests. All testing is being conducted on the Joint Helmet Mounted Cueing System (JHMCS) configuration, the Night Vision Goggle (slick) configuration, as well as other helmet-mounted systems.
"LIFT Airborne is combining its 30 years of successful personal protective gear research and development with the vast background of its in-house pilot trained staff that has literally tens of thousands of flight hours in fast jets and other aircraft to truly build a state-of-the-art Next Generation Fixed Wing Helmet the likes of which have truly never been seen. It is unique in its wealth of innovative features, its ease of use for both aircrew as well as aircrew equipment maintainers, and its exceptional form factor that screams aggressive style, as opposed to the blob-shaped helmets of yore. Overall our team has exceeded many expectations and we're excited to continue on this development path of refinement and quality execution of key performance parameters." states Guido Rietdyk, the President and Chief Executive Officer of LIFT Airborne Technologies.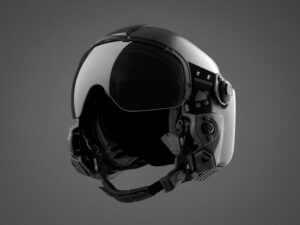 Says Jason Barnes, Vice President of Product Design: "I couldn't be more proud of how my team has excelled in harnessing the varied benefits of many best-in-class technologies provided by industry leading component and technology partners on this project. It's no surprise that with this approach the end result is better than expected and we've managed to check the boxes on required features, but also added some things that we know pilots want, but weren't necessarily on the requirements list. There's no doubt that our Next Generation Fixed Wing Helmet is truly that: Next Generation. Its modularity and simplicity of use in everyday mission configuration is allowing improved mission success and reduced logistical support. We've managed to accelerate the seemingly stagnant design cycles in existing legacy helmet systems and boosted the overall look and feel of the helmet to a point where aircrew are proud to be wearing it."
With locations around the country LIFT Airborne Technologies LLC is the premier advanced technology expert in building flight helmet systems and related componentry. As an off-shoot of worldwide leaders of personal protective gear that include among others EVS Sports, LIFT Safety and LIFT Aviation, we're accustomed to produce advanced gear that's at the pinnacle of the industry standards. LIFT Airborne helmet systems incorporate only the latest and most intelligent components that improve mission success in comfort and in style, while allowing reduced inspection, maintenance and repair investments in time, money, and operational downtime. Our goal is to continually evolve each and every component and element of every product we build, such that we're ALWAYS introducing the Next Generation of technology. Our experienced and quality focused management team has a simple motto which reads: CHOOSE BETTER.
Media Contact
LIFT Airborne Technologies LLC
2130 E. Gladwick Street
Rancho Dominguez, CA 90220 USA
[email protected]
(310) 637-5000